History of Haiti Evangelical Christian Church
In 1988, while visiting the Gascogne community, Pastor St-Clair realized there were no Christian churches that were preaching the Word of God. He prayed to God, "If you give me a chance to go to Bible School I will come back and plant a church here for your glory." The Lord answered his prayer and provided a way for him to attend Bethel Bible Institute. Though he did not have enough funds to pay the tuition, he prayed and asked God, "If it is your will for me to plant the church in Gascogne Community, please provide the money." In the same week the seminary administrator met with St-Clair and told him there was someone who wanted to pay the tuition for a student. St-Clair was the one the administrator chose to receive those funds. This was the answer to his prayer.
In 1990, one year before graduating from the Bible seminary, Pastor St-Clair started the church with only 8 people. In 1994 the church moved to a property in Marche-Canard where they are still currently located. In 2001, after helping to plant 10 churches in the area, HECC changed their status from church to Mission in order to oversee and support the growing congregations. There is now about 300 worshippers at the HECC mission in Marche-Canard. The mission now consists of over 40 affiliate churches across Haiti. God has also opened the door for many other ministries to begin at HECM including a health clinic, womens ministry, leadership seminars and most recently Celebrate Recovery.
Praise be to God!
---
Pastor St-Clair Destine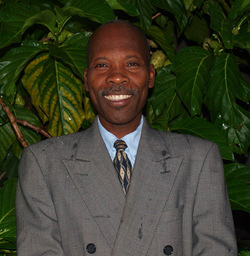 Pastor St-Clair was born in 1964, in Gascogne, a small town in Mirebalais, Haiti. Son of Emmanuel Destine and Dieumene Joseph. St-Clair was raised in the Gascogne area with his 4 siblings. In 1993 he married Anisette Louis and they have 4 children; Roselene, Shouby, Beethoven and Douglas.
St-Clair graduated from Bethel Theological Seminary in 1991, one year after starting the church in the Marche-Canard. St-Clair has a background in medical training as well as pastoral studies which he uses throughput the clinic and community pharmacy located at the mission.
He has a passion for people and a desire to see that all come to the saving Grace of Jesus Christ. It is his personal mission to meet the physical, emotional, and spiritual needs of the people, both young and old.
---
Board of Directors
President-Past — St-Clair Destine
Administrator-Past — Paul Souffrant
Secretary — Carline Joseph
Advisor — Dr. Elisha Jn-Baptiste
Advisor-Past — Claude Etienne
Coordinator-Past — William Paraison
Women's Ministry — Thelizia Morissette